LONDON'S HOME FOR IMMERSIVE THEATRE AND ALTERNATIVE ARTS
The lost corpses of London's rotting morgues have been left down in the depth of The Vaults, long forgotten.
But now, something is stirring. The Dead are restless ... and they're ready to party.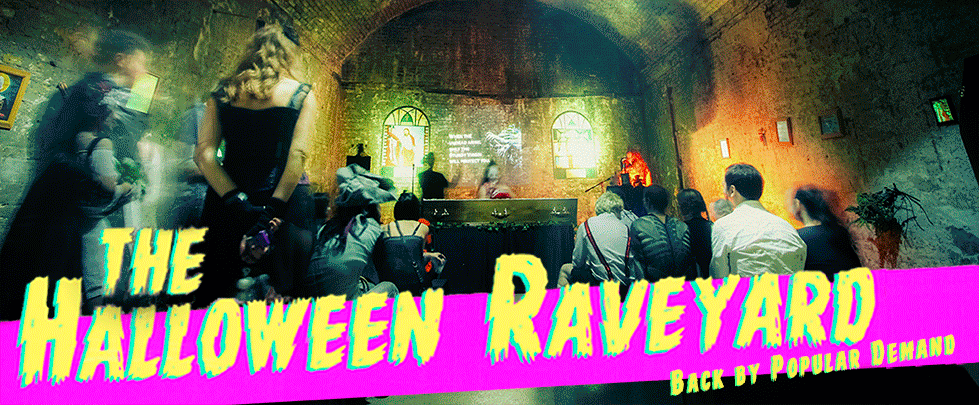 In the late nineteenth century, London's graveyards were overcrowded, bodies were beginning to pile up...
The Vaults underground tunnels were used as a grizzly morgue facility for London's rotting corpses. They were prepared, picked and poked ready for transportation to vast graveyards in Surrey at the end of the Necropolis Line.
But not all made it to their grave.
In the damp, depths of Waterloo some have remained forevermore.
In the dark for over 150 years,
Dead and forgotten,
This Halloween they are restless.
And they are ready to party.
Only the Dead may enter…
Welcome to the party of the dead. After 150 years, your company is warmly received. As warmly as it can be of course. Venture into The Halloween Raveyard where the Dead have been revived for their annual celebration.
Full line up to be confirmed but expect bands, DJs and artists who will be sure to get even the deadest of bodies moving! With brass and beats THIS good your spines will be tingling all night long.
Expect: Bizarre Bands, Devilish Djs, Bloodcurdling Cabaret, Feverish Funerals, Zombie Dance Halls and much much more...
Suitable for ages 18+
27 & 28 October
8.00pm - 02.00am
TICKETS
Super Early Bird: £5
Early Bird: £10
General Admission: £18
All prices exlcude booking fee
Book online, by phone or in person at V3, 100 Lower Marsh. SE1
ENTRANCE INFORMATION
Entrance to The Halloween Raveyard
is via our Leake Street entrance
Music by The Correspondents
HALLOWEEN RAVEYARD 2017 TICKETS